&nbsp &nbsp Young Women On God's Side
Newsletter &nbsp &nbsp &nbsp &nbsp &nbsp &nbsp &nbsp &nbsp &nbsp &nbsp &nbsp &nbsp June 1998



From The President
I hope that you all are enjoying this club so far. I think you all are great! I haven't had the time lately to get to know each one of you personally but I hope to in the future. Right now I need your help. I want this newsletter to be filled with lots of great information but I need you all to make this possible. In the past couple months I have recieved very few submissions and ideas. It is very hard for me to get everything together by myself. I don't need much from you girls. But if you could help out by sending me a story, poem, graphic, joke, idea, advice request, prayer request or anything else that you think others would enjoy it would be greatly appreciated. Thanks for all your help girls! I love you all!
Keep Shining Your Light For God!!
~ Sheri (President)


Graduation Day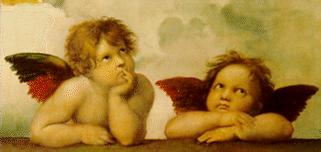 A young man was getting ready to graduate from college. For many months he had admired a beautiful sports car in a dealer's showroom, and knowing his father could well afford it, he told him that was all he wanted.

As Graduation Day approached, the young man awaited signs that his father had purchased the car. Finally, on the morning of his graduation, his father called him into his private study. His father told him how proud he was to have such a fine son, and told him how much he loved him. He handed his son a beautifully wrapped gift box. Curious, and somewhat disappointed, the young man opened the box and found a lovely, leather-bound Bible, with the young man's name embossed in gold. Angry, he rose his voice to his father and said "With all your money you give me a Bible?" and stormed out of the house.

Many years passed and the young man was very successful in business. He had a beautiful home and wonderful family, but realized his father was very old, and thought perhaps he should go to him. He had not seen him since that graduation day. Before he could make arrangements, he received a telegram telling him his father had passed away, and willed all of his possessions to his son. He needed to come home immediately and take care of things.

When he arrived at his father's house, sudden sadness and regret filled his heart. He began to search through his father's important papers and saw the still new Bible, just as he had left it years ago. With tears, he opened the Bible and began to turn the pages. His father had carefully underlined a verse, Matt.7:11, "And if ye, being evil, know how to give good gifts to your children, how much more shall your Heavenly Father which is in Heaven, give to those who ask Him?"

As he read those words, a car key dropped from the back of the Bible. It had a tag with the dealer's name, the same dealer who had the sports car he had desired. On the tag was the date of his graduation, and the words PAID IN FULL.

How many times do we miss God's blessings because they are not packaged as we expected?




Advice

No one has asked for advice for me to add to this issue of the newsletter so if you have a question or need advice please email me. I will answer everyone.


God Loves You!!


Prayer Requests
~Sheri's cousin Mandy is in the hospital. They are running tests to see why she has been so sick lately. Please keep her in your prayers.
~If anyone else has a prayer request please let me know so I can add it.

Mark 11:24 "Therefore I tell you, whatever you ask in prayer, believe that you have received it, and it will be yours."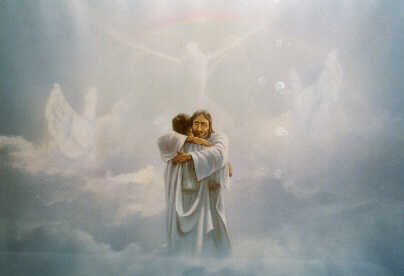 Inspirational Writing Of The Month

God's Job
An elementary school class was asked to write a paper on what God does. Here is what one young boy wrote:
One of God's main jobs is making people. He makes them to replace the ones that die so there will be enough people to take care of things on earth.

He doesn't make grown-ups, just babies. I think because they are smaller and easier to make. That way, He doesn't have to take up His valuable time teaching them to talk and walk, He can just leave that to mothers and fathers.

God's second most important job is listening to prayers. An awful lot of this goes on, since some people, like preachers and things, pray at times besides bedtime.

God doesn't have time to listen to the radio or TV because of this. Because He hears everything there must be a terrible lot of noise in His ears, unless He has thought of a way to turn it off.

God sees everything and hears everything and is everywhere which keeps Him pretty busy. So you shouldn't go wasting His time by going over your mom and dad's head asking for something they said you couldn't have.

Atheists are people who don't believe in God. I don't think there are any in Chula Vista. At least there aren't any who come to our church.

Jesus is God's Son. He used to do all the hard work like walking on water and performing miracles and trying to teach the people who didn't want to learn about God. They finally got tired of Him preaching to them and they crucified Him.

But He was good and kind like His Father and He told His Father that they didn't know what they were doing and to forgive them and God said OK.

His Dad (God) appreciated everything that He had done and all His hard work on earth so He told Him He didn't have to go out on the road anymore, He could stay in heaven. So He did.

And now He helps His Dad out by listening to prayers and seeing things which are important for God to take care of and which ones He can take care of Himself without having to bother God. Like a secretary only more important.

You can pray anytime you want and they are sure to hear you because they got it worked out so one of them is on duty all the times.

You should always go to Church on Sunday because it makes God happy, and if there's anybody you want to make happy, it's God. Don't skip church to do something you think will be more fun like going to the beach. This is wrong! And, besides, the sun doesn't come out at the beach until noon anyway.

If you don't believe in God, besides being an atheist, you will be very lonely, because your parents can't go everywhere with you, like to camp, but God can. It is good to know He's around you when you're scared in the dark or when you can't swim very good and you get thrown into real deep water by big kids.

But you shouldn't just always think of what God can do for you. I figure God put me here and He can take me back anytime He pleases.

And that's why I believe in God."

~If you have an inspiring story or poem that you would like to share with us, please email me and it will be in an upcoming newsletter.
New Members
We would like to welcome our newest members:
~We don't have any new members for this month. Please tell your frinds about us!

E-Pals
Our e-pal program is under way. So far we have 6 people in the program. If you would like to have a fellow ywogs as a pal then email me with some of your interests and what you are looking for in a pal and I will pair you up. I hope that those of you who have pals are getting to know one another. I'd love to hear an update. :o)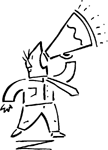 Announcements From Memebers
Lindsay O. has started a newsletter called Atmosphere. Bascailly it's for discussion with both christians and non-christians (it will be moderated by Lindsay so offensive messages/posts will not be included in the newsletter.) Each month a topic will be set - like the one she has decided to start with "What do non-christians think." She has composed a survey and wants members to send it out to non-christians. The results will be posted then discussions and there will be other topics on what ever people want to write about. To join/see the survey e-mail lindsay50@hotmail.com

Pam is wanting constructive criticism on her home page. Please visit Pam's page and email her your comments. It will be greatly appreciated.

Sheri is writing a book called "Faith Filled Inspiration" it is going to be filled with stories, poems, and scriptures that can help and inspire others. If you have a story or poem about faith, angels or anything else that you would like to be included please email Sheri at Safaith@aol.com Everyone who submits their own work will recieve full credit for it and will also recieve a copy of the book when it is completed. &nbsp
&nbsp
Member Directory
Our members Directory is now up and running. The members who haven't sent me their info yet are listed by name only. If you haven't sent me you info and would like to have it included then please send me an email. View Directory
As you can see we are growing in number but not very quickly. Please spread the word about this club, I'd love to see the number of members double. :o)
&nbsp
Web Graphics
If you have a web page and are looking for some Christian graphics to enhance the site then you may find some of the graphics that I have made on my graphics page. Feel free to use them! You will also find the ywogs member logo.

JOKE
A couple had two little boys, ages 8 and 10, who were excessively mischievous. The two were always getting into trouble and their parents could be assured that if any mischief occurred in their town their two young sons were in some way involved. The parents were at their wits end as to what to do about their sons' behavior.

The mother had heard that a clergyman in town had been successful in disciplining children in the past, so she asked her husband if he thought they should send the boys to speak with the clergyman. The husband said, "We might as well. We need to do something before I really lose my temper!"

The clergyman agreed to speak with the boys, but asked to see them individually. The 8-year-old went to meet with him first. The clergyman sat the boy down and asked him sternly, "Where is God?"

The boy made no response, so the clergyman repeated the question in an even sterner tone, "Where is God?" Again the boy made no attempt to answer, so the clergyman raised his voice even more and shook his finger in the boy's face, "WHERE IS GOD?"

At that the boy bolted from the room and ran directly home slamming himself in his closet. His older brother followed him into the closet and said, "What happened?" The younger brother replied, "We are in BIG trouble this time. God is missing and they think we did it!"


&nbsp

Hope you enjoyed this month's issue of the newsletter! If you have any comments or suggestions then please email me! I'd love to know what you think! Keep Shining Your Light and Spreading Your Faith!!