Welcome to the Y.W.O.G.S. main page. We are glad to
have you visiting us. Please look around and
see what our club is all about!

First of all Y.W.O.G.S. stands for...
Young Women On God's Side
This is a club for young women who have
God first in their lives.

Y.W.O.G.S. is a place where Christian girls
can get together and share prayer requests,
inspirational stories, advice, poetry, and
much more. We are here to support
and encourage each other.

If you or someone you know would like
to join please email safaith@juno.com
with your name, age, state, email address,
homepage address, and why you would
like to become a member.

Once you have joined you will be sent a
special url where you can view the Y.W.O.G.S.
online zine and meet other members!
Hope to hear from you soon.
In Christ's Love,
Sheri
(President and Founder)

Causes Y.W.O.G.S. Support: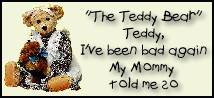 (Not responsible for the content of below banners)